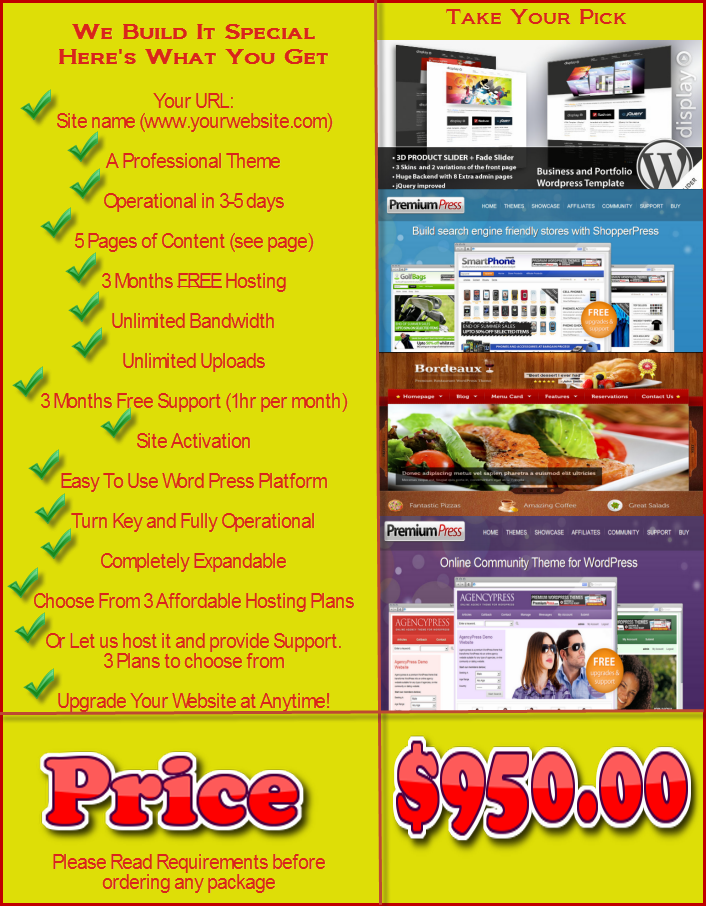 Important Information Please Read:
We make every effort to have your website up and running for you within 3-5 working/business days. It is important to note that the speed at which we produce your website is inherently dependent on our client's ability to provide accurate and web ready content. Pricing disclosed above does not include our providing content for your website. When you agree to purchase our special you must be ready to send us the content and information you want put on your website. 
Any additional time spent correcting, spell checking or improving content, images, audio or video will be billed to the client at a rate of $50.00 per hour. You will however be notified before any potential billing
Clients must provide original content, images and video and upon sending this material to us acknowledge that the material is in no way the ownership of another party or company. or is copy written by any other party. Providing unauthorized copy written material is a violation. Melnechuk Marketing does not accept any liability for the material or content you provide us and automatically assumes that your material is original. 
5 Pages include the following options:
Home Page
Contact Page
About Us Page
Blog Page
Image Gallery Page
Term of Use and Privacy Policy Pages
Content must be website ready in Word or Text. Images must of the proper dimensions and in Jpeg or PNG. Reminder, this must be your own content. 
Additional Content:
Additional content can be added at a base hourly rate of $100.00 per hour provided the content is web ready. 
Additional Plug-Ins
Additional plug-ins can be added as needed or required by the client. Plug-in installation is $50.00 per plug-in plus the cost if any. Call us at 242-225-9201 for a quote on a custom plug-in installation.
Time Requirements:
Potential clients are reminded that information must be readily available and send to our offices via email in an orderly fashion and within one to two weeks of the agreement to proceed. with the contract.
Large Content Uploads:
On many occasions clients will require large content uploads such as menus, inventory, listings etc. Melnechuk Marketing can provide the client with this service through one of its affiliates in order to keep the cost lower than the average local hourly rate. Contact Us at 242-225-9201 to discuss your needs and we will find an affordable solution for you. 
Hosting:
Hosting is provided to all clients for a maximum of 3 months and begins on the day the website starts construction. Clients must choose on or before the 3 month period what website hosting plan best suits their needs. If a client does not choose a plan then the hosting will default to a basic hosting plan of $25.00 per month. Clients wishing to change providers may do so upon payment of a $100.00 cancellation fee. 
Support:
During your first three months we make every effort to assist you with your website to insure that it is exactly how you want it. This support is free and is limited to fixing bugs, making minor changes to the design of your theme, updating your data base and keeping your website current with the latest Word Press platforms. Support can be continued after 3 months through the purchase of a "Support Plan". These plans are available with your hosting plan and specially designed hosting plans can be designed for every client's needs. Contact us at 242-225-9201 to discuss how we can design an affordable support plan for your business website.
Training:
Yes, we can train you to manage and operate your website without having to pay us for support. Because every website is different and has different functionality training programs are custom designed for each client. We can teach you the basics or teach you to be a pro with live help online and over the phone. We can also schedule your tutorial around your busy day. Call us at 242-225-9201 to learn more.
URL's / Web Addresses:
As a service to our clients we maintain all web addresses under our support portfolio to the safety and wellbeing of the client. We insure that the URL is registered and is current every year. Once your brand has been developed on the web it has a value. We insure that no one will slip in and take your URL just because you forgot to renew it. URL renewal subscriptions are available individually or through our support plans.